At Aardvark Antiques, we are proud to have an extensive Art Gallery. Get to know some of the artists whose work grace our walls:
Jean-Baptiste-Camille Corot
Jean-Baptiste-Camille Corot
One of the world's best know French artists is Jean-Baptiste-Camille Corot (1796 - 1875).
Jean Baptiste Camille Corot was born in Paris in 1796 in a house on a corner that looked out on the bridges that loop the Seine. His father ran a fashionable millinery shop. He was twenty-six years old when he entered the studio of landscape painter Achille-Etna Michallon, an artist no older than himself who encouraged him to work en plein air.
This is a gorgeous print of a Painting Landscape Scene. The visible artwork measures 13.5"W x 10"H, with the frame it measures 20"W x 17"H. It is professionally matted, framed, and glass. Just beautiful.

Valerie Lennon

Valerie Lennon

Valerie Lennon is a southern-based painter, specializing in conceptual expressionism using oil and acrylic paints.
Valerie's statement: I am an artist. I am a conceptional expressionist. I am a painter that creates my ideas through color, shape, and composition.
My artistic strength is my choice and use of color. I spread these colors on my canvas using varying values and shape and line. I use the paint transparent and opaque to create these shapes and planes. As I enter the creative exploration of painting I think about varying brush strokes, juicy application of paint and sizzling complements of color.
In the beginning I think little of my subject, losing myself in this very challenging process. All of these concepts help me to create my figurative florals and landscapes, which are unique to me. My figurative paintings are stories, memories, and moments in time. I am inspired by Matisse who spoke to these moments in his masterpieces with features not being the important part of painting. I let you, the observer, be a part of the creative process using your unique imagination.
I want my paintings to give joy, humor, and happiness. I want to feel these emotions upon viewing the art in my home.
This is a large nicely framed oil on canvas that is signed by V. Lennon by the renowned artist and painter Valerie Lennon. This is a very large masterpiece measuring 36" x 48". In the frame overall this piece is 46" x 58" . Large and Striking by this expressive fine artist.



Mira Paris
Mira's work has attained much success and has

graced the walls of Ex-Presidents and notable public figures. Richard Nixon owns Mira's "Eagle Protecting the Flaming Earth".

Ex-Presidents Jimmy Carter and Henry

Ford and Henry Kissenger also owned this striking piece. Ex-President Ronald Reagan is in possession of the original.
The work of art is patriotic and composed of brilliant color. It portrays America's symbol the eagle shielding us from the blazes of a worn torn world and powerfully keeping us united.
Here you'll find no grave tones of the times of yore, but vivid positive shades of expectations for the future. What a great gift choice for the leader of a country. The Prince who gave the painting believed that each and everyo one of these dignified men had an influence on world peace in his own way. Hope is so important for our future thus hope must be kept alive and this is what Mira does
.
Over one thousand

of Mira's original and limited edition works have been certified by I.M.A.R.A.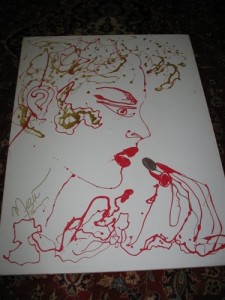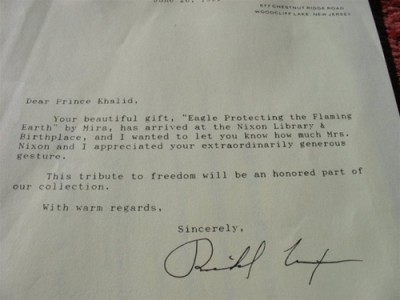 Mira Paris Original Painting, "Connoisseur Beauty". Mira Paris is internationally known and the authentication title papers are included with this huge painting. For your fine art collection, an original acrylic painting by Mira Paris. The title of this exquisite masterpiece is "Connoisseur Beauty". Along with the painting is an authentication and a copy of the letter from Richard Nixon to Prince Abdul Khalid thanking the prince for a painting by Mira Paris entitled "Eagle Protecting the Flaming Earth". This is truly a wonderful, erotic, original piece to be enjoyed for years to come.
C.C. Benham
C.C. Benham was an American artist from New York during the 20th Century. His works have sold at fine auction houses around the country.
This is a beautiful landscape by C.C. Benham that is done in watercolor.
The setting is the countryside, with dirt roads, and grass fields. The intricate details create the sense of you actually being there.
Alfred Munnings: England's Finest Painter of Horses
Alfred Munnings 1878 - 1959
Alfred Munnings was born at Mendham, Suffolk across the River Waveney from Harleston in Norfolk, in 1878. When he turned 14 years old, he became the apprentice of a Norwich (which is a very lovely place, I visited there) printer, and his tasks included the designing and drawing of advertising posters for approximately 6 years. During this time, he was also attending the Norwich School of Art. After his apprenticeship was over, he became a full time painter as his heart was by then completely captured by painting. One of his favorite topics was rural landscapes, but he also enjoyed painting horses.
Some of his racing and hunting scenes are among the best ever made by Artists. He painted real life moments. He became the President of the Royal Academy, a post he held between 1944-51. He advocated fiercely against the emerging trends of modern Art. His famous departing speech which he gave in 1949 went into Art history as an attack on modernism (according to contemporary accounts, he may have been tipsy at the time). The broadcast was heard by millions of listeners to BBC radio. Munnings who was apparently drunk, said in that speech that Cézanne, Matisse and Picasso had corrupted Art. He also mentioned that Sir Winston Churchill had once said to him, "Alfred, if you met Picasso coming down the street would you join with me in kicking his (word omitted)?" to which Munnings allegedly replied, "Yes Sir, I would".
He was knighted in 1944. He died at Castle House, Dedham, Essex, in 1959. The village pub in Mendham is named after this artist. His home Castle House, depicted in the picture below, was set up as a tribute to his Art by his wife, Lady Munnings, after his death, and it is a well visited museum today.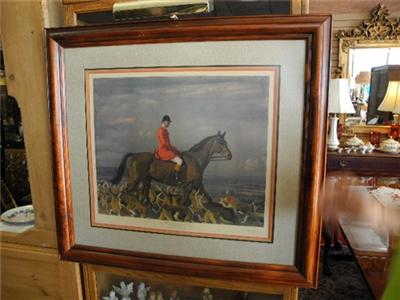 Here is a lovely example of a great Alfred Munnings piece. Just beautiful, quality framing with non-glare glass. Alfred Munnings Signed Print Portrait of Major T. Bausch M.F.H>. Belvoir Hounds. This was given to our consignor for nursing Carol Thompson ( an Olympic horsewoman and daughter of the late CFO of Johnson and Johnson) for 2 weeks during cancer surgery in Colt's Neck, NJ in 2001. Her husband, Willard Thompson, was a race horse trainer and Jockey Club's Trainer of The Year at one time. The print once hung in the New Jersey Turf Club and was awarded to Willard. I adore Munnings. He was the head of the Royal Academy of Art in London as an older man in the early 1900s. He detested modern art and resigned from the academy in protest.
It measures 23.5 inches by 19.5" with quadruple mattting. The frame measures 38.5 x 35.